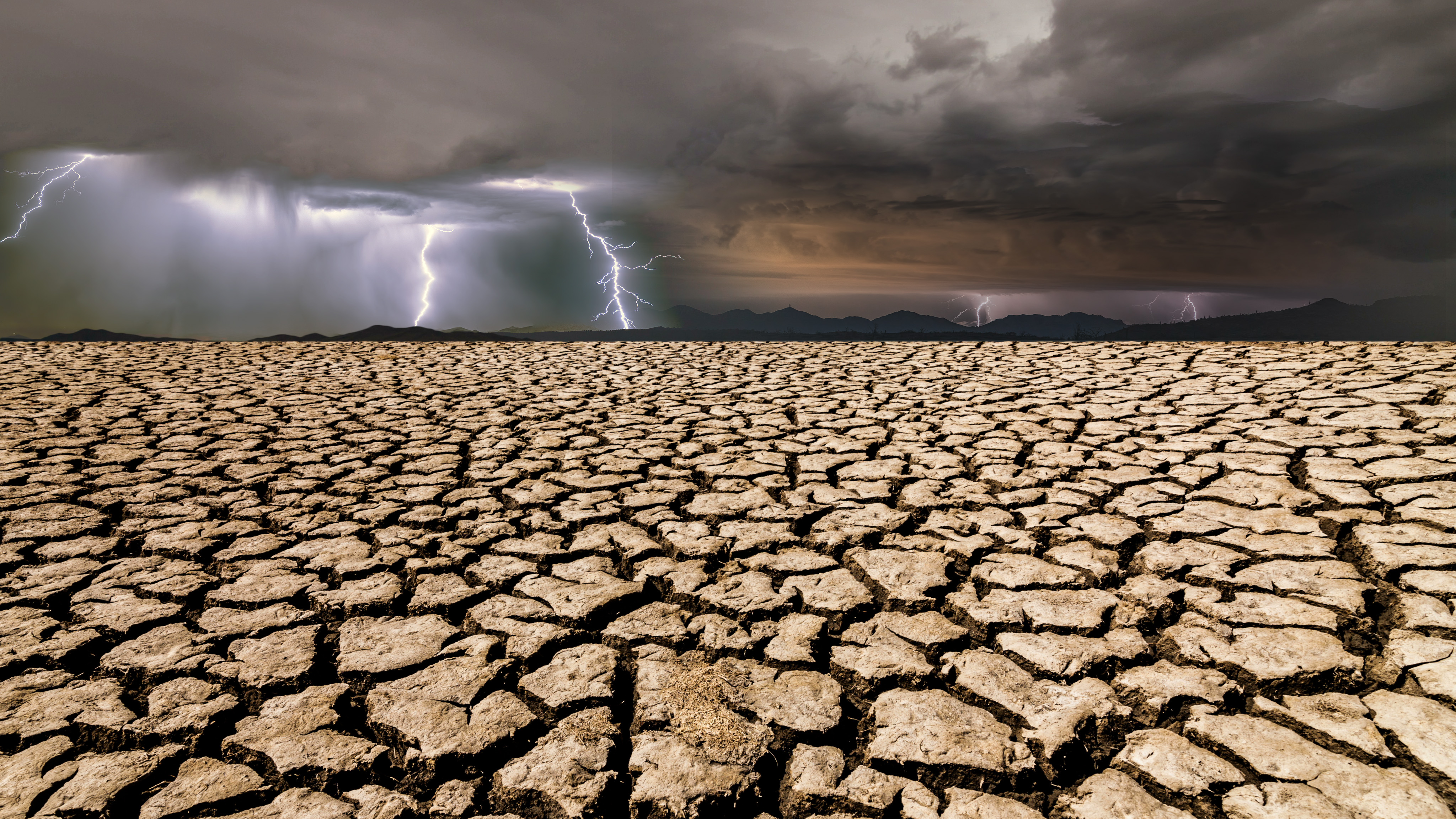 MyRadar
News
—
Despite Growing Drought Conditions, Central U.S. Flirts with Rain Chances for Independence Day
6/30/2022
If I were to describe this summer so far in the heartland, I would call it HOT and DRY. We typically do see temperatures in the mid-to-upper 90s here in my home base of Evansville, Indiana; however, what's unusual is the amount of consecutive days that we've reached that temperature threshold.
The cause for the hot and unrelenting heat is no mysterious foe, I've already discussed back in mid-June after record high maximum and minimums were broken region wide. To catch up, or refresh on that article, you can find it here.
Up until recently, temperatures were actually quite seasonable, dare I say, pleasant! Temperatures aren't hot and conditions have remained very dry. While temperatures are projected to get warmer in the near future, we're still expecting overall longterm dry conditions.
As we inch toward the Independence Day holiday our dry stretch won't hold long enough to keep us high and dry completely to observe the holiday.
As you can see below, today's issuance of the U.S. Drought Monitor shows abnormally dry conditions across much of the Central U.S. Here in my neck of the woods, moderate drought has actually taken hold over southwestern Indiana (we call it SWIN). I've noticed the grass is beginning to brown if unwatered and many outdoor plants are beginning to wilt.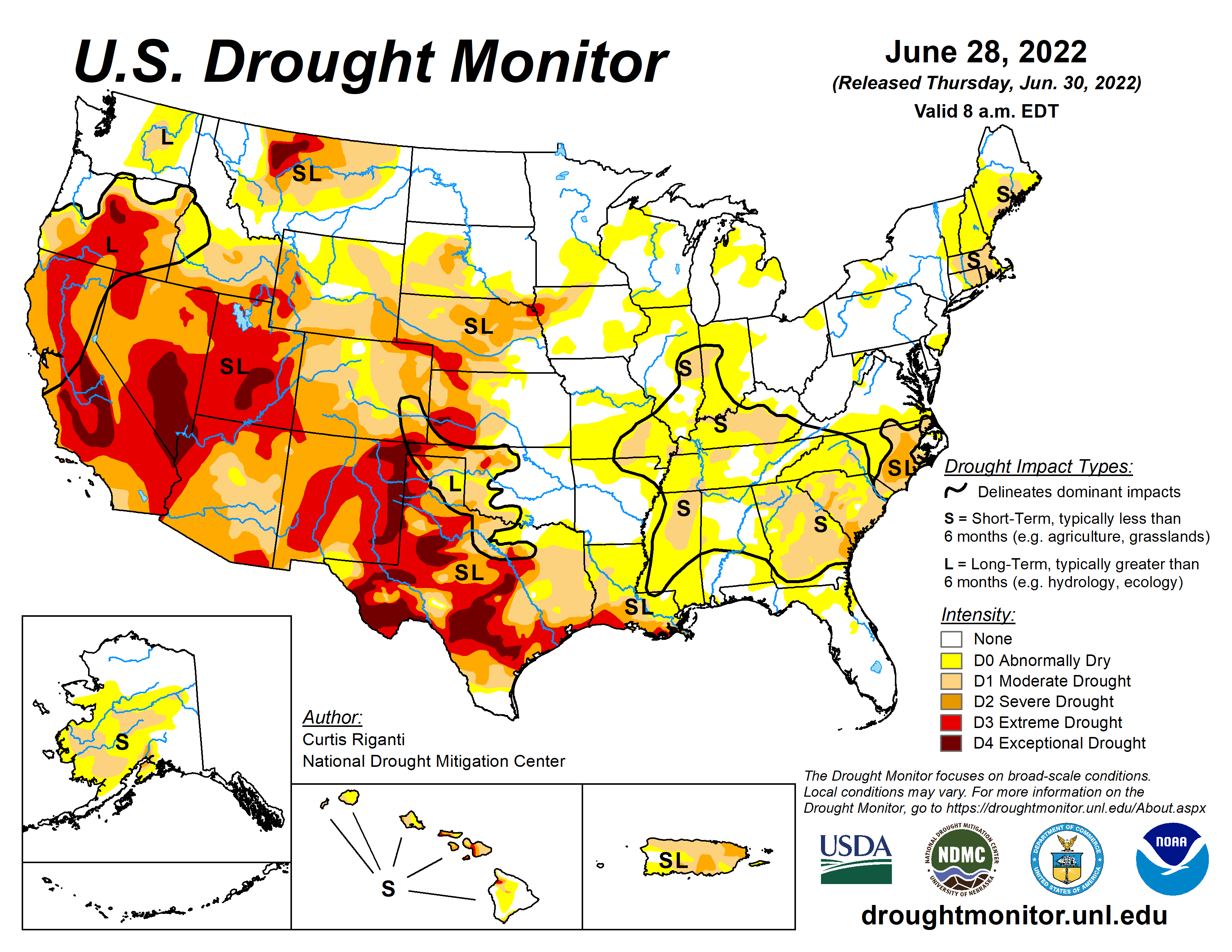 Figure 1: The current U.S. Drought Monitor issued 6-30-22 shows pockets of drought and abnormally dry conditions throughout the Central U.S.
It's been so dry that the Ohio River —which floods quite frequently— is actually approaching "low water level" territory which is a water level of 14' or less.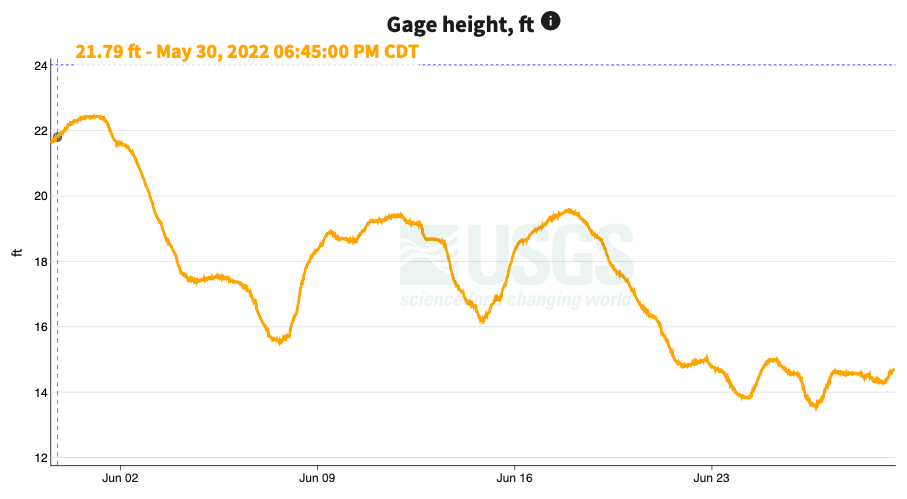 Figure 2: Water level on the Ohio River in Evansville IN from May 30th-June 29th 2022.
Intuition would tell you that if drought conditions are growing here in the Central U.S. that we could at least be guaranteed a dry Fourth of July. Unfortunately, Mother Nature isn't always as gracious as she ought to be because we are tracking the chances for rain showers developing region wide during the Fourth of July.
Below is a map showing the forecasted probability of precipitation occurring from 7AM to 7PM on July 4th, 2022. Across much of the Central U.S. it's not looking to be a washout, but with probabilities ranging between 15%-42%, some precipitation cannot be ruled out. The Great Lakes and Ohio Valley seem to have the highest rain chances for the region as a whole. Again, statically speaking, you're more likely to be dry this fourth than wet, but with rain chances comes cloud cover. Cloud cover doesn't make it impossible to view fireworks, but dampers the fun of watching the airborne firecrackers a little —especially if the clouds are too low.
Figure 3: Probability of Precipitation Occurring for the CONUS for a 12 Hour Period ending at 7PM CDT on July 4th 2022.
Right now there isn't much agreement on just how much rain we could see. As of now, the American and European Models are showing quite different scenarios for the evening of Fourth of July. The American is showing much more widespread and heavy rainfall occurring, while the European is showing more isolated and lighter showers.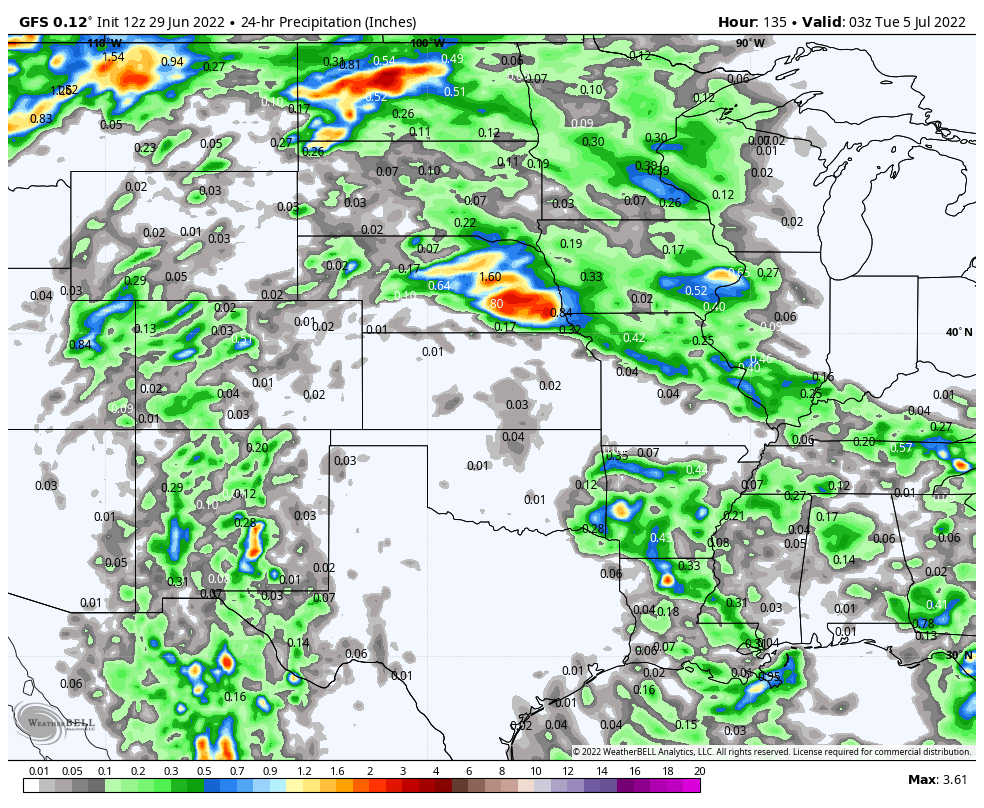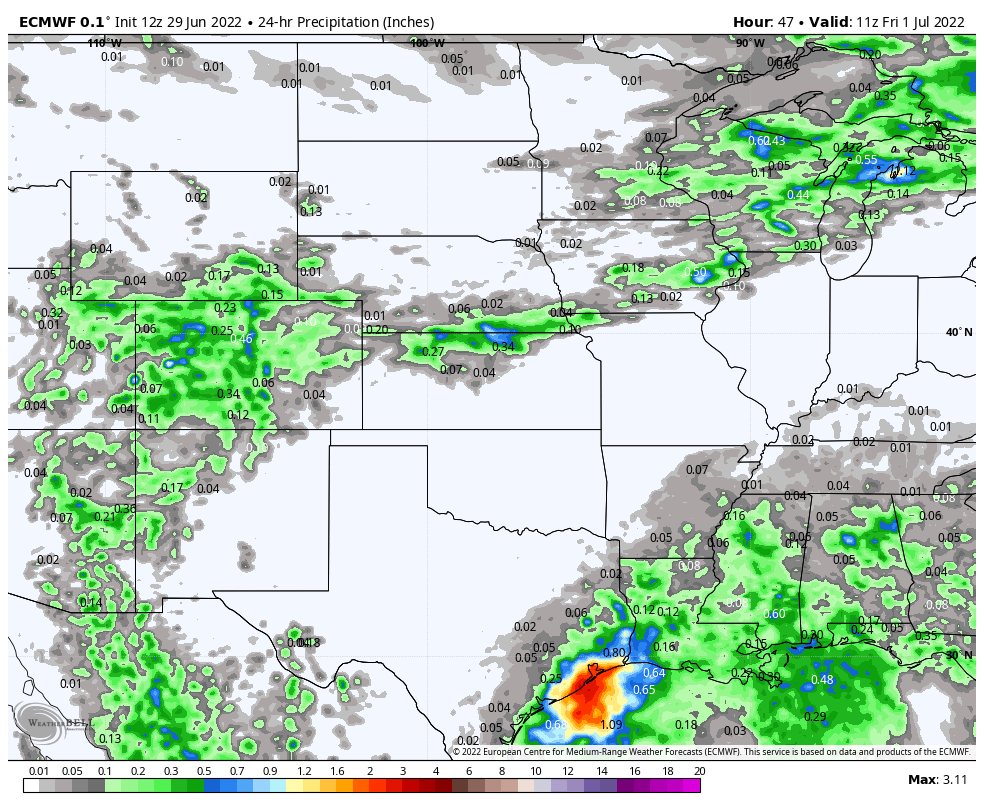 Figures 4 & 5: GFS (left) and "the Euro" (right) showing 24-hour precipitation totals for the region ending at 10PM CDT on July 4th, 2022.
Don't go canceling your outdoor plans just yet, we're still a few days away and things could change. As an on-air meteorologist myself, I encourage you to tune into your local TV stations to find out what you can expect in your area!
Be sure to enjoy the holiday whichever way you can no matter the weather. If it doesn't rain, that's great; but if it does rain, just know the poor plants, rivers and streams, and wildlife need this extra bit of water.