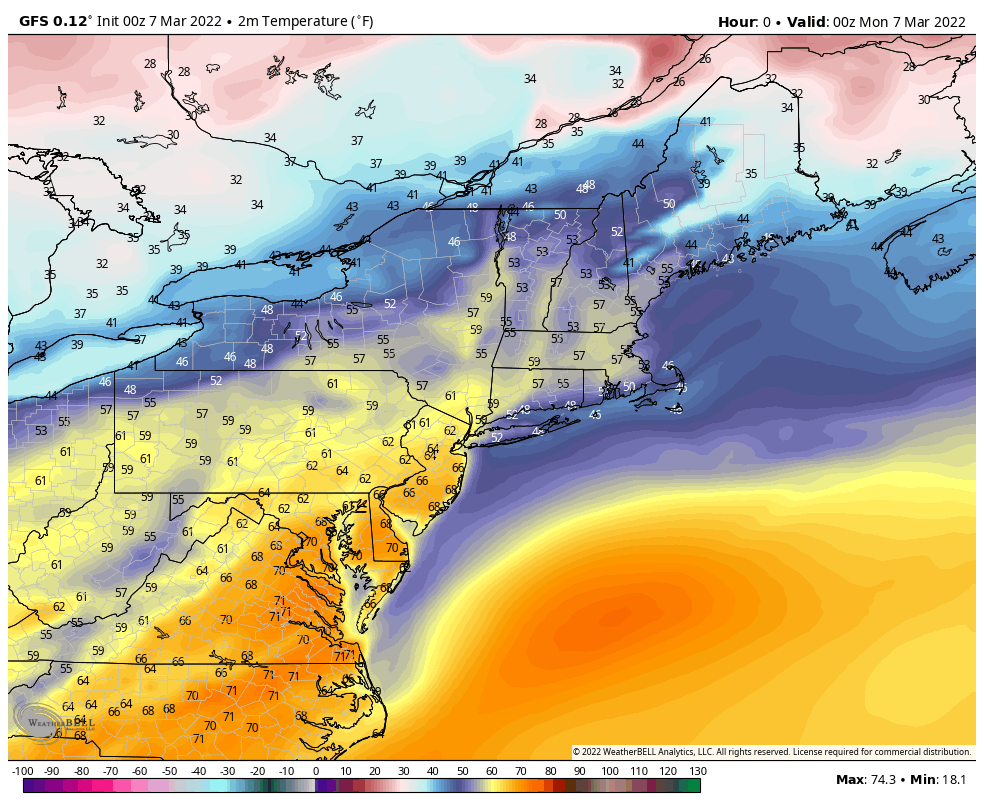 MyRadar
News
—
Unpredictable March in the Northeast
by Will Cano | News Contributor
3/10/2022
Ah, spring: the fresh breeze, the warmth of the sun's rays, the urge to wear shorts and a t-shirt on a run outdoors. It seems like spring is in full swing in the Northeast, and it has received a warm welcome from many.
No, this isn't an outdated article.
Only four days ago, this was the case across the region as temperatures surged into the 60s, 70s, and even 80s on Monday. However, this came to an abrupt end, and many residents were at the mercy of snowflakes and sub-freezing temperatures on Wednesday.
While this turnaround seems bizarre, it is just typical March in the Northeast: a roller coaster of winter, warmth, and wind.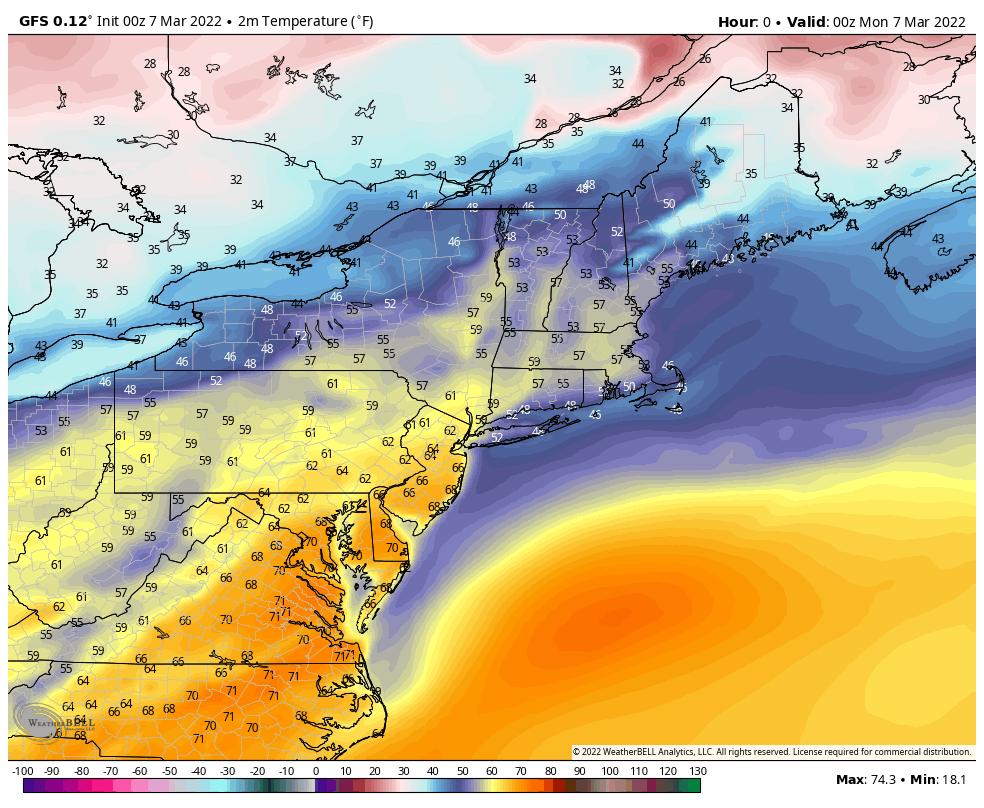 The GFS Model forecasting the roller coaster of temperatures between Sunday, March 6th and Tuesday, March 8th. Some stations neared a 40-degree temperature change. Image Credit: WeatherBell Maps
March is easily the weather's most notorious time of the year. Put simply, this is because March is a buffer — it separates the winter from the spring, and along with it comes the messy transition between the seasons. Across the Northeast, many extreme meteorological phenomena have reinforced this belief.
The largest snowstorm to ever affect the eastern seaboard hit incredibly hard between March 13 and 14, 1993. The "Storm of the Century" dumped 20 inches of snow consistently across thousands of square miles, and set all time low-pressure records across dozens of cities.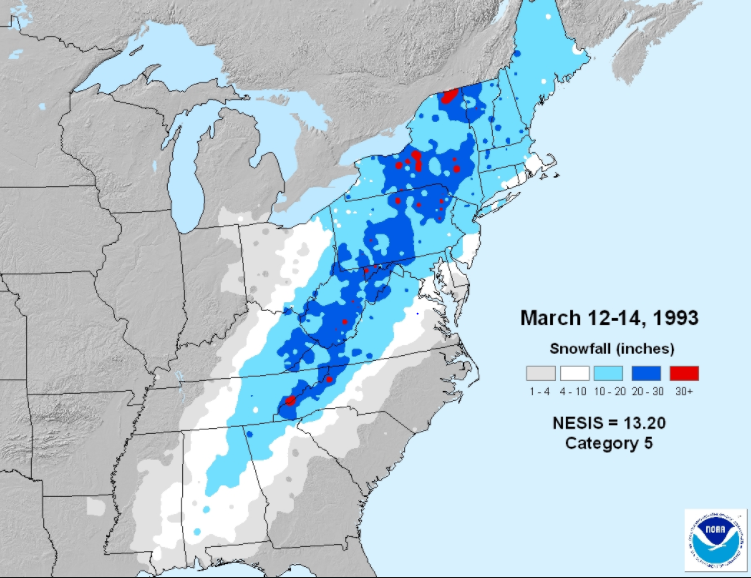 Snow totals from the Superstorm of 1993, with heavy amounts stretching from Alabama to Maine. Image Credit: National Weather Service
In addition, the deadliest snowstorm in U.S. history struck on March 11-13 in the Northeast. The "Blizzard of 1888" killed 200 people in New York City alone, and dropped 58" of snow as the top total.
As another example, Upstate New York was halted to a stop by an ice storm on March 4,1996. In Rochester, power was knocked out for 14 days as up to two inches of freezing rain fell, more than quadruple the amount considered to cause "crippling" damage. Utility crews from Ohio, Pennsylvania, and Canada were sent to help restore the power to the area.
A massive snow drift in Northampton, Massachusetts on March 13th, 1888. Image Credit: Forbes Library,

Northampton
However, this does not tell the entire story. March is known not only for record cold in the region, but also the surges of warm weather before spring is in swing. In Albany, New York, the record low temperature for March is -21℉ in 1948, while the record high temperature is 89℉ in 1998. This creates a difference of 110 degrees — a gap larger than any other month by over 14 degrees.
Even far-north locations can experience March heat waves, exemplified as Bangor, Maine reached a record-high 84℉ on March 22, 2012. The city has an average July temperature of 79℉.
To explore the true reason why March is so volatile, one must look farther than temperature and precipitation extremes.
As previously stated, March brings many extremes because it acts as a messy gateway from winter to spring. As these transition occur, dry, polar air masses are forced to retreat northward as moist, tropical air masses surge from the south.
As these air masses battle for supremacy, they are a vital factor in moving the jet-stream — a dividing line between the two. The jet-stream acts as a freeway for storms, and with an ever-changing arrangement of air masses, these systems can take many different paths across the U.S.
March is not only notorious in the Northeast. Across the entire Unites States, extreme weather phenomena are seen because of the ever shifting air masses and jet stream.
For this reason, March is known to be the windiest month for hundreds of cities across the US.
It also allows the Rocky Mountains a more consistent flow of precipitation, making March the area's snowiest month.
Satellite imagery of a large storm system hitting much of the central US on March 14th, 2021. Up to 4 feet of snow was seen in the Rocky Mountain region. Image Credit: GOES-16 Satellite, National Weather Service
Further, this makes way for moist, Gulf air to violently clash with lingering cold air, leading to tornado hotspots in the southeast and Midwest.
The Tri-State Tornado took place on March 18 with a setup such as this. And just this week, an EF-4 destroyed homes in Winterset, Iowa with estimated winds of 170 miles per hour. Less than 48 hours later, the piles of debris were blanketed in 5 inches of snow.
While such extreme weather events are possible at any time of the year, March fosters an atmospheric setup that increases the likelihood of these events exponentially. Even this weekend, a "Bomb Cyclone" is expected to cause temperatures to plummet and winds to whirl across the Northeast.
Whatever the forecast for your area is, make sure to stay weather aware, and just hope that March will go out like a lamb this year.