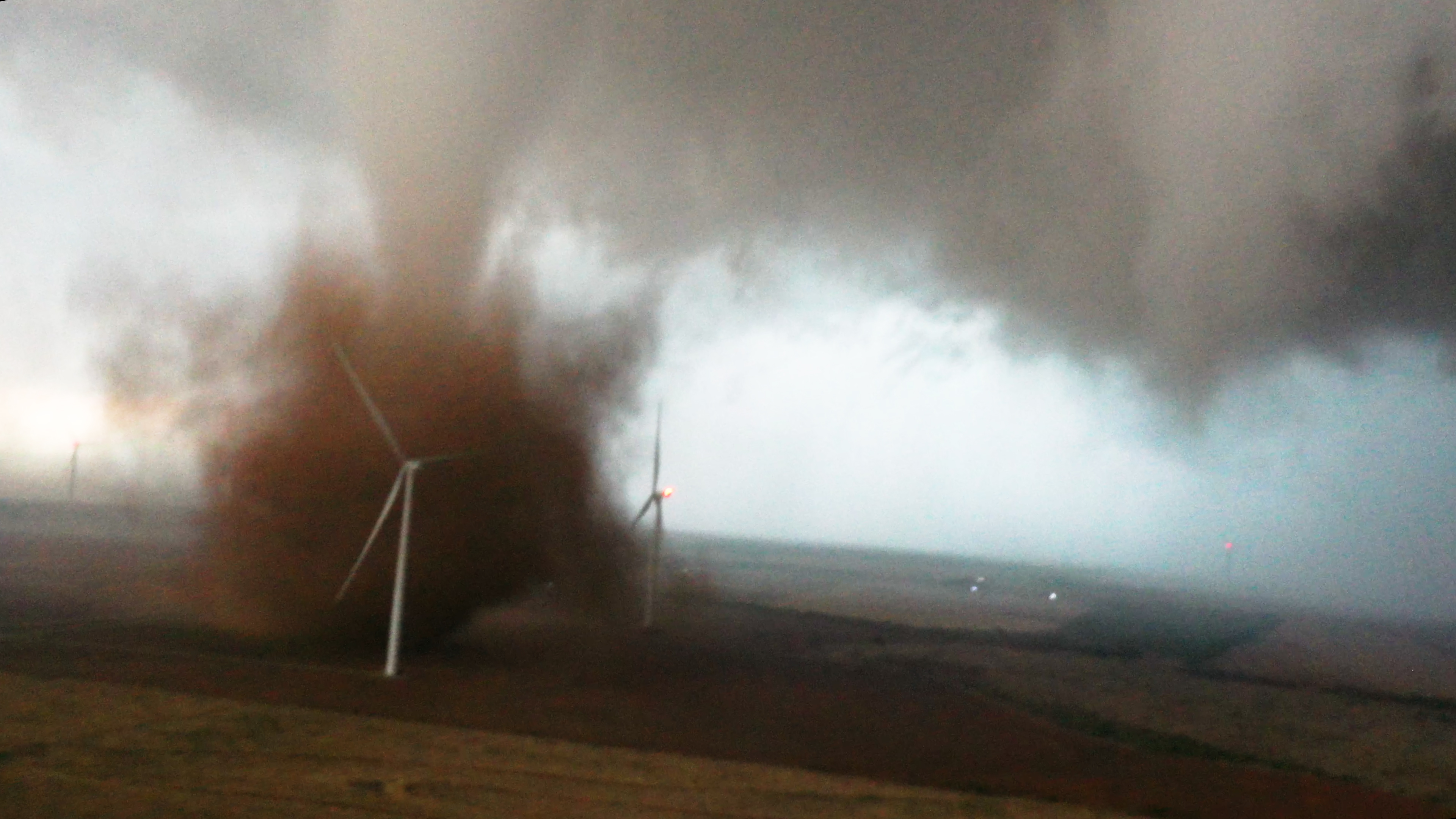 MyRadar
News
—
Chasing Down A Dusty Red Texas Twister By DRONE!
6/7/2022
The North American continent is a vast and diverse landscape. From the open prairie land in southern Canada and North Dakota, to the badlands of South Dakota, into the Sandhills of Nebraska, through the cornfields of Iowa, and the open grassland plains of Kansas and Oklahoma, then down to the red dirt and mesquite filled Texas, and over to the forested land of the southeast. A storm chaser will encounter many unique geographic locations in pursuit of Tornadoes.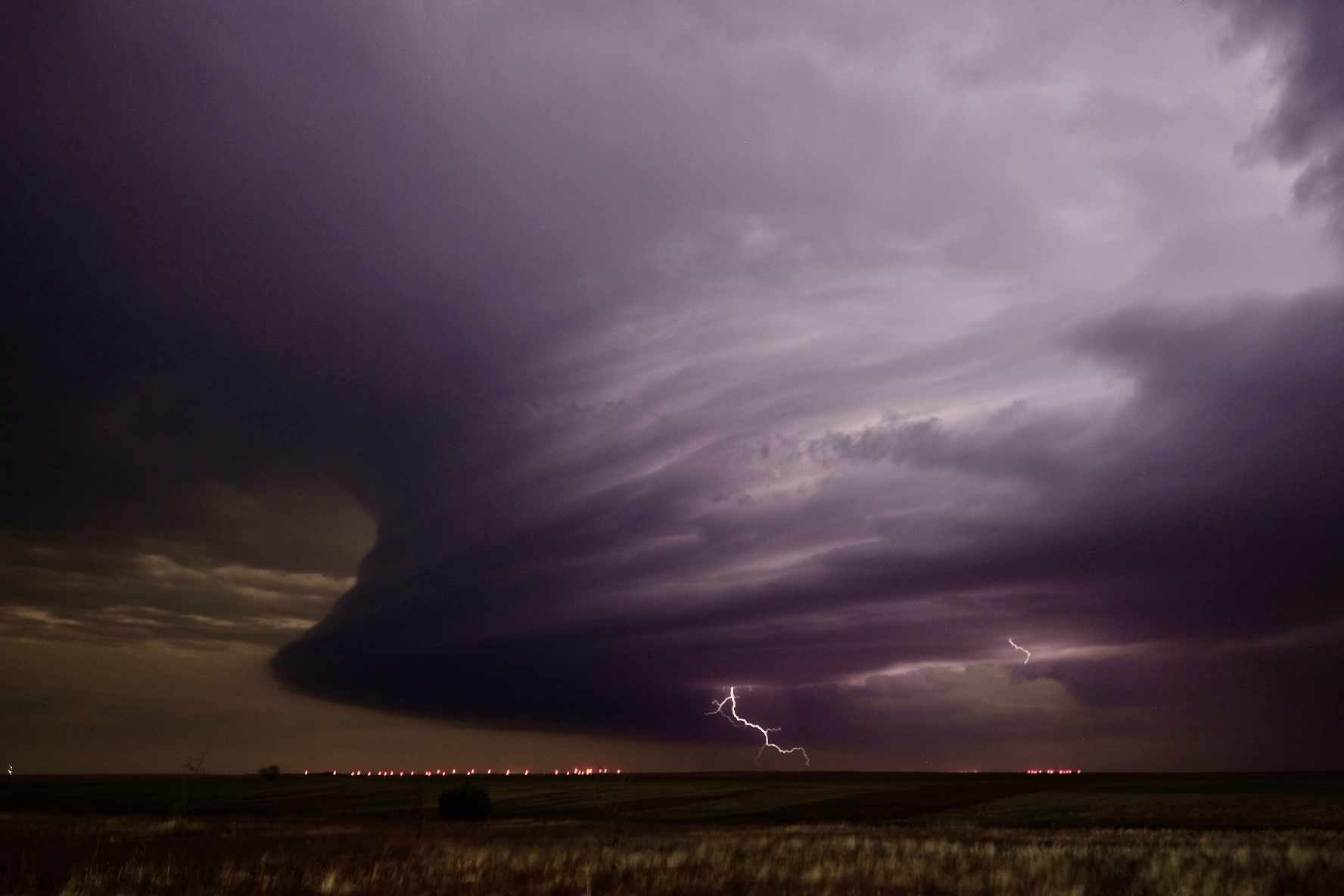 A massive supercell shoots a lightning bolt over the eastern Colorado High Plains.
Show a storm chaser a picture of a tornado, and they'll likely have a good guess at where that tornado was located. A long tall skinny trunk, probably the High Plains of New Mexico, Colorado or Wyoming. A big ground scraping wedge tornado in open flat-land, probably in the Northern Plains or Canada. A 'Wizard of Oz' looking tornado... well probably Nebraska, Kansas or Oklahoma. A big rain-wrapped wedge tornado in the tree's - you are in the southeast! But a beautiful white twister with red dirt swirling around and being sucked into it, and you are likely in Texas!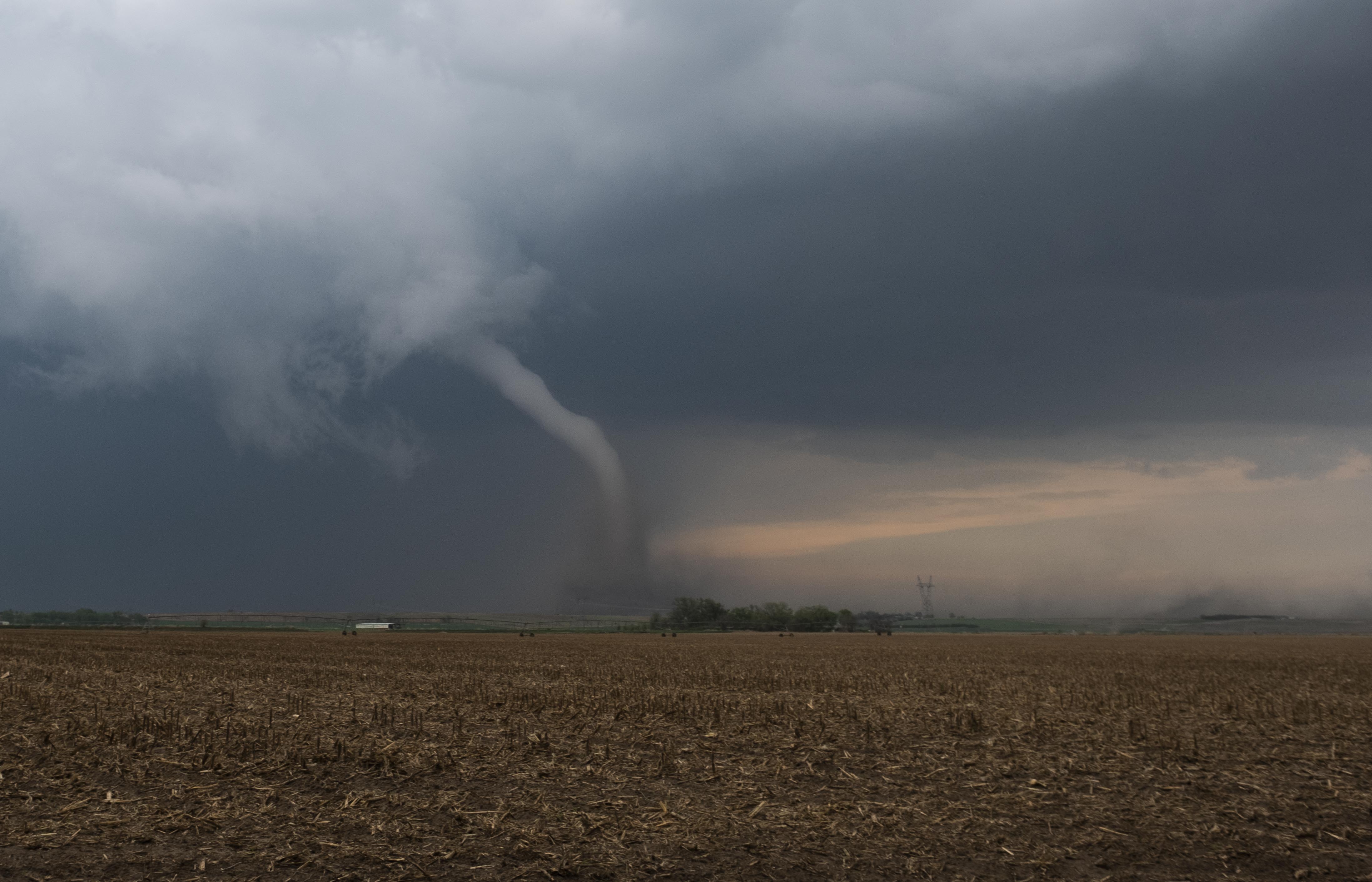 A tornado spins near McCook, Nebraska - May 17, 2019.
On May 4th, 2022 I got to intercept one of my favorite types of tornadoes. A red-dirt-eating twister in the open fields of north Texas along the Red River where just last year in April, I witnessed and documented some of these same dirty red beasts, and it was within 50 miles of where I would find myself again on May 4th.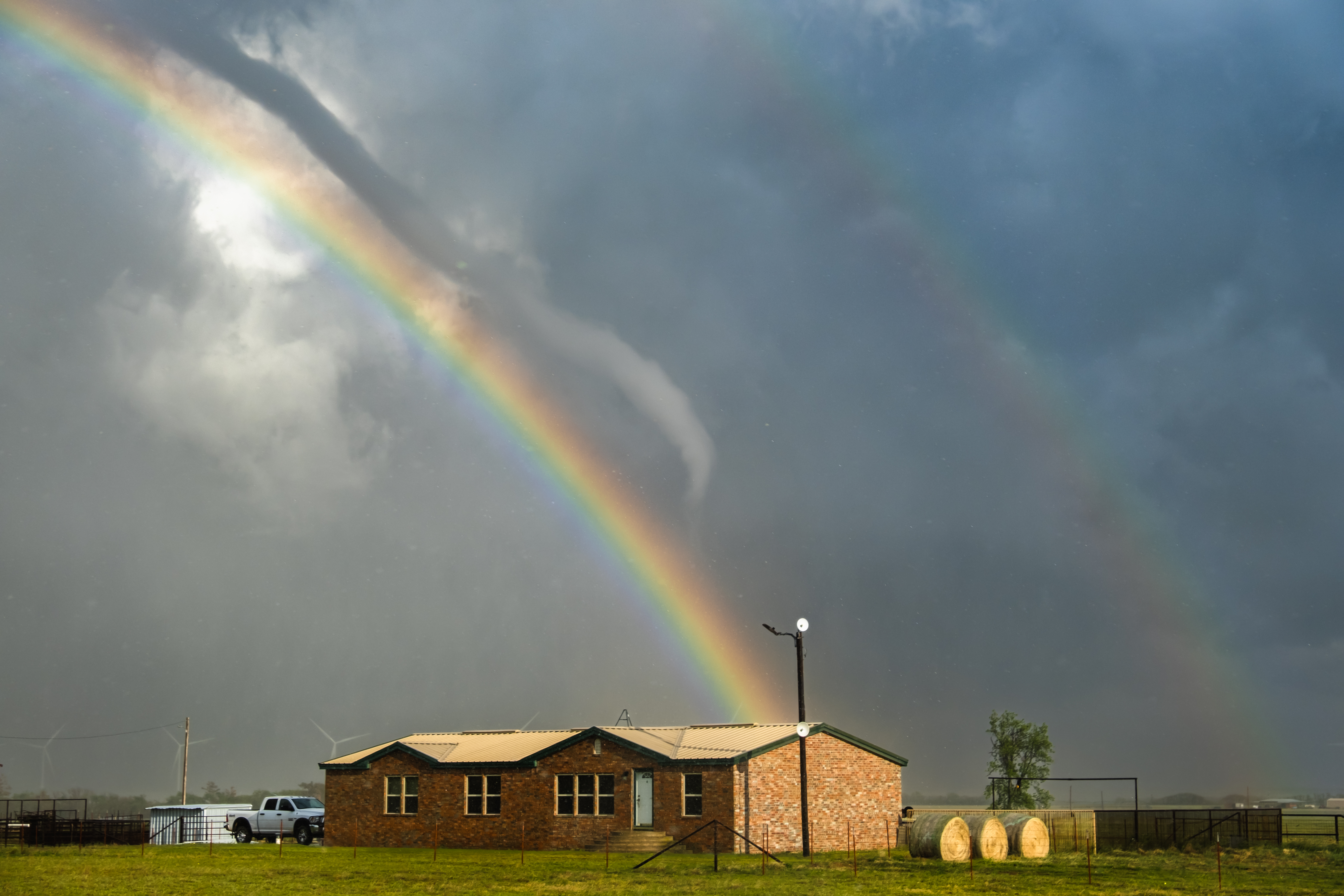 May 4th, 2022 was an interesting, complex, and evolving severe weather event. The Storm Prediction Center on that day had issued a Moderate Risk for severe weather centered on the Red River, where north Texas and southern Oklahoma meet. This Moderate Risk also included portions of the southeastern Texas panhandle east of Amarillo.
There were multiple target areas on this day. A guaranteed target area for tornado potential was at the triple point (where air masses meet).
This triple point was expected to evolve around the area of Childress, TX, while moving to the east. Out ahead of this triple point in the "open" warm-sector was another target area.
Models had hinted at storms firing in southern Oklahoma, south and west of the Oklahoma City area. Yet another target area was eastern Oklahoma; south and east of Oklahoma City along a warm front. And lastly, even the eastern Texas panhandle east of Amarillo showed potential for severe storms and tornadoes.
As a storm chaser who's primary target is either tornadoes or hurricanes, my objective is to put myself in the best position to capture a tornado LIVE for viewers watching within the MyRadar app or social media.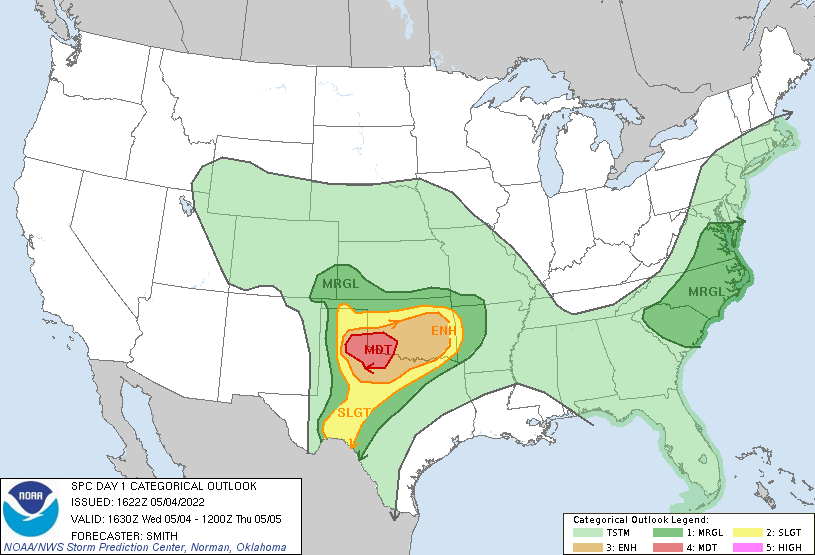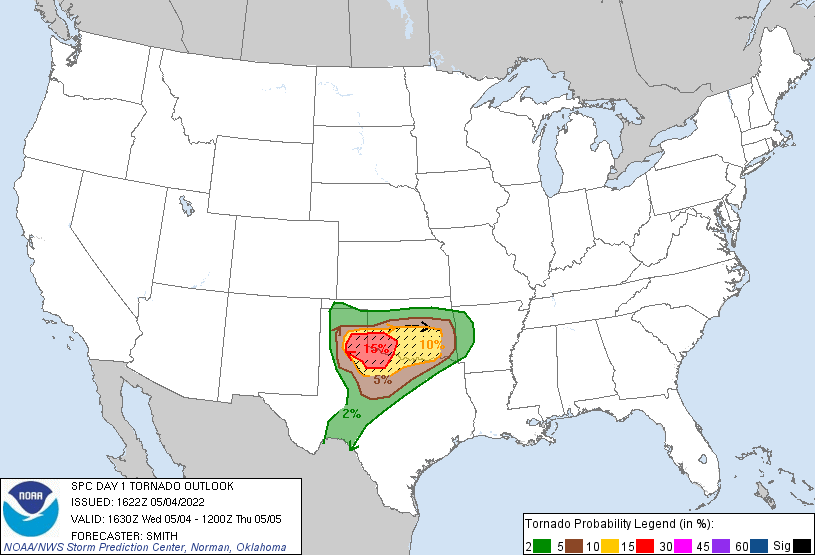 Storm Prediction Center forecast for 5-04-2022
A lot was going through my mind on this day.
Besides just looking at meteorological observations, models, and other analysis to help me pinpoint the most likely tornado target area, at the triple point, the most obvious target, would be many storm chasers on the roads, making it difficult to keep up with a storm and tornado. Additionally, the triple point storm(s) would be going through some geographically difficult areas of Texas with limited road network and dips and valleys in the terrain.
Out ahead of this area however, to the east, the land eventually opens up into wide open red-dirt filled fields. In Oklahoma, it was more of a gamble in the warm sector due to a capping inversion; storms may or may not fire, but if they did, they would be beasts and there weren't as many chasers targeting this area. I could initially target this area and still make it to the triple point storm about the time it starts producing tornadoes in better terrain, if a storm failed to materialize in Oklahoma. I had also noticed that the wind fields for tornado potential were a little better to the east near Lockett, TX, which would eventually come into play later in the evening.
East of Oklahoma City is difficult chase terrain as the Great Plains begin to transition into the tree-filled southeast region. The tornado potential looked good, but did I really want to deal with the tree's when it's May? No not really. My last target option to consider was the east Texas panhandle. The models had shown a strong storm possible up here, but it looked elevated and likely just to produce hail. Not a good choice for tornadoes.
After weighing all the options, I decided my plan would be to linger in southern Oklahoma around Lawton, TX for the first part of the day. I would be in position for any storm that formed and might threaten Oklahoma City, and could keep an eye on and make a move towards the triple point, likely before a tornado formed. So that's what I did, I hung out for the better part of the day in or west of Lawton. I watched model evolution, I looked at current observations (visible satellite, how strong of a capping inversion there was, dew points, etc..), and I watched on radar as a storm began to form northeast of Lubbock.
This storm northeast of Lubbock was likely the triple point storm firing and likely would be a tornado producer later in the afternoon/evening hours. As I watched this storm evolve and eventually become severe warned, it was looking more and more likely that no storm was going to materialize in southern Oklahoma. I needed to abandon this target area and get south of the Red River into Texas as soon as possible. After analyzing the storms speed and direction of travel, along with the terrain it was going through and knowing there would be many storm chasers tracking the storm, I decided my best option was to get southwest of Quanah, TX and allow the storm to approach my location.
Off I went into Texas to get into position for this storm, now tornado warned and also starting to produce brief tornadoes.
Arriving southwest of Quanah, in the path of the supercell, I had an overlook looking over a mesquite filled valley. In the distance, still 15 miles away, I could see a rain-free base, and a wall cloud with funnel cloud dangling below it. Rain currents began to wrap around the supercell, and I briefly lost view of the now tornado spinning on the ground.
Eventually the rain cleared out by stronger RFD winds (rear flank downdraft or winds wrapping around the back side of the supercell) and a new cycle of a tornado was about to begin. I had my drone in the air, I had my Fuji camera ripping a timelapse, and best of all I had a great view where I was just able to sit back and enjoy the supercell and tornado out in the open as it approached my location. Once again, another tornado formed as it danced through the mesquite. The tornado lifted and it was now time to position off to the east where I would find wide open fields and windmill farms.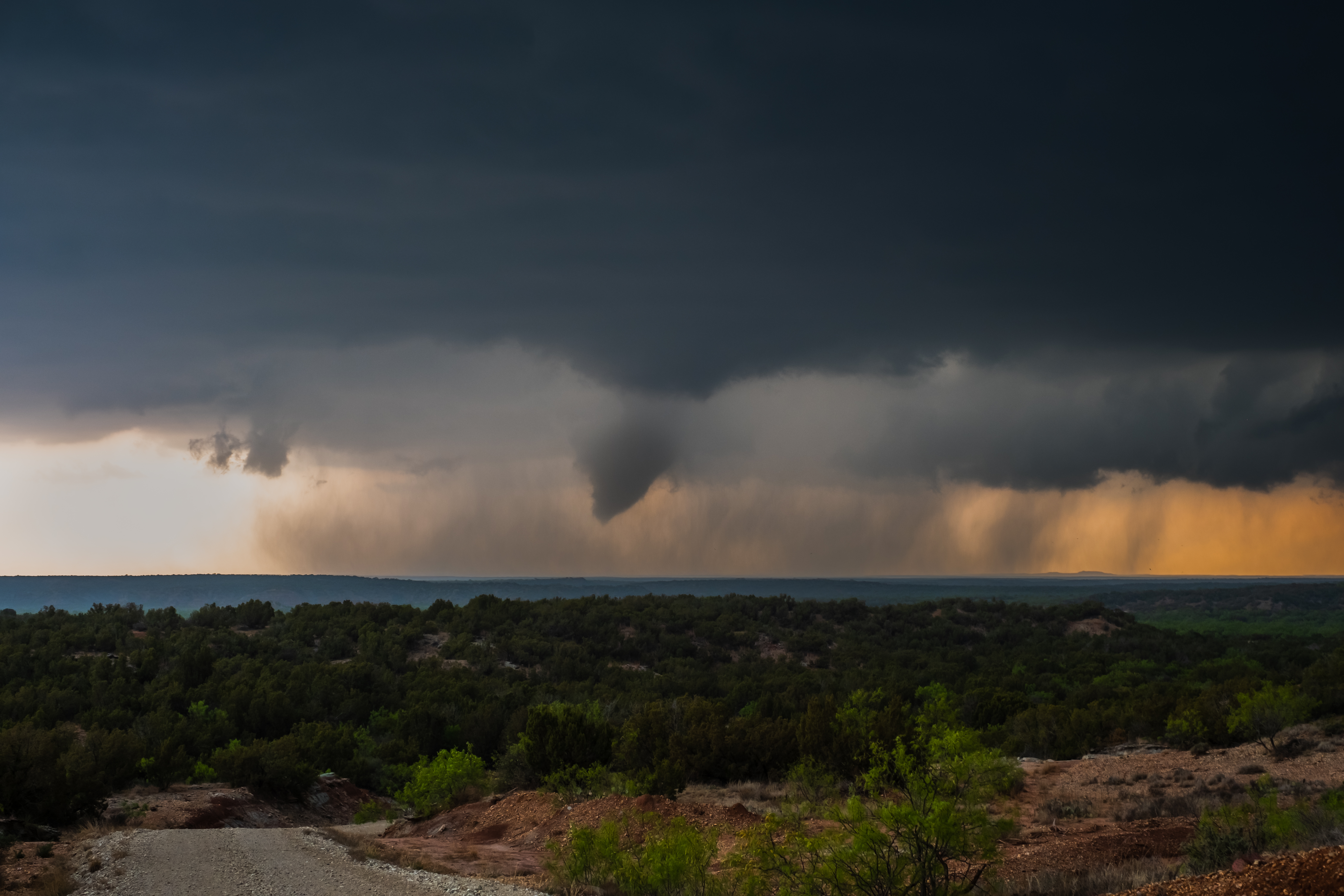 A tornado rotates rain curtains and dust through a valley full of mesquite trees near Quanah, Texas on 5-4-2022.
As I tracked east, I arrived just south of Crowell, TX. The storm was now taking on a new form; a monster clear slot appeared and I could tell that this storm was about to really ramp up and start producing more powerful tornadoes. I pulled my vehicle over and prepared myself to shoot an amazing tornado. This monster clear slot evolved into an incredibly beautiful tornado, spinning up red dirt as it traversed through a windmill farm. Above the farm was my drone, making its way toward this incredible feat of nature.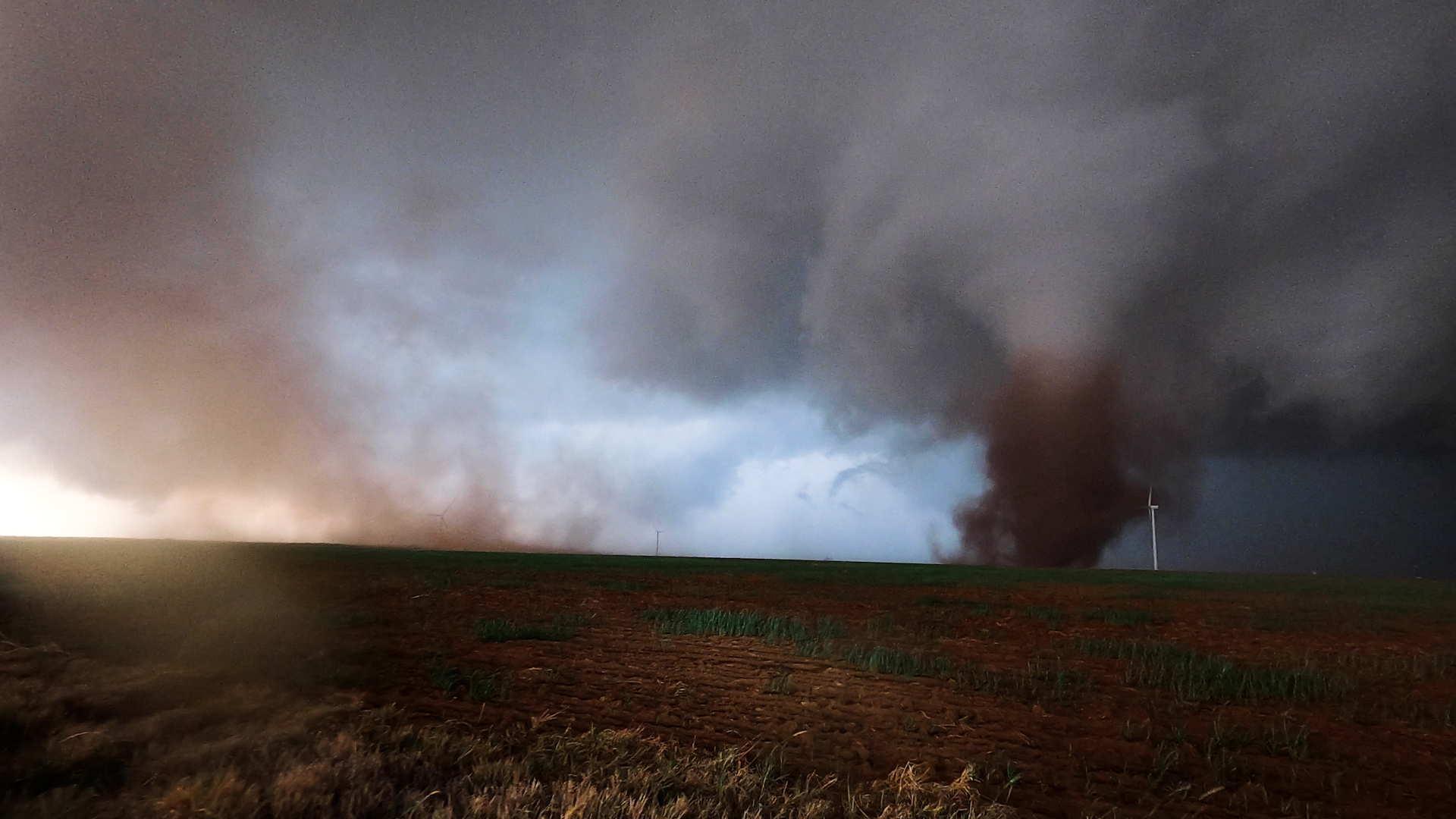 A tornado makes a direct hit on a windmill south of Crowell, Texas on 5-04-2022
At first it appeared as if I would need to move further to my north to get a close view of this tornado, as the vortex moved in a northeasterly direction. However, as the storm began to grow and become a stronger supercell, a larger rotation began to form, which this tornado moved along with. The tornado pivoted and began to change direction, moving to the southeast and right for me now. With my 360 camera rolling, I darted to the south 200 yards allowing room for the tornado to pass the road in front of me. Storm chasers, weather researchers and meteorologists raced after the tornado, whizzing by me toward the red dusty debris cloud crossing the road.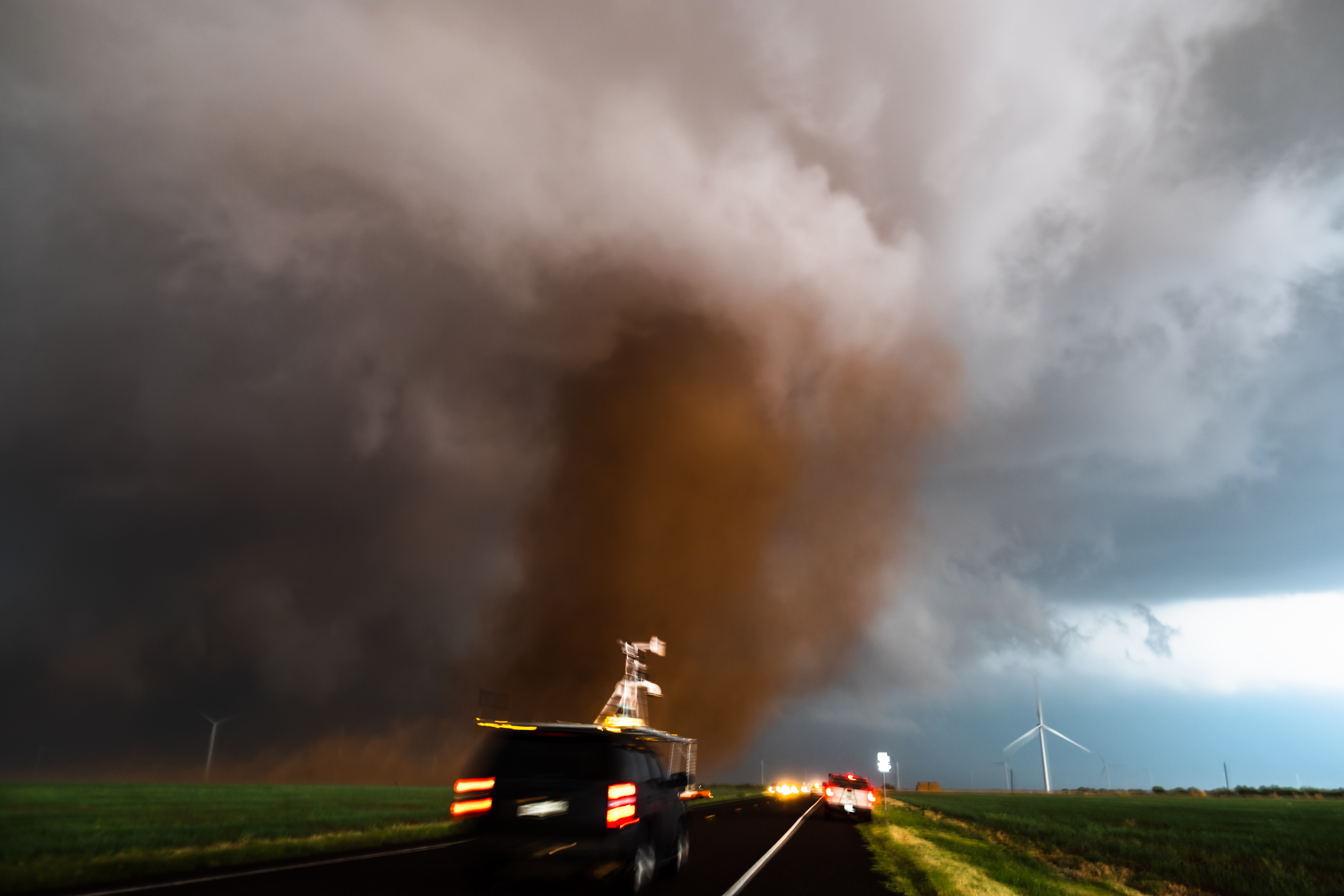 As the tornado and storm continued away from me, moving to the east, it had taken hold of my drone, as my drone was now being dragged away by the storm, and unable to return back to me due to the strong winds in the storm. The drone went down out in a field, and the mission was now not to chase the storm, but to chase down my drone to get that amazing footage that I had just captured with it. Using GPS technology, and running at least a mile to the drone and back, I was able to locate the drone and continue on the chase.
As this storm continued to move to the east, it continued to intensify, and as darkness fell, a monster tornado would be born from this storm. On radar it was obvious the storm was now producing a strong tornado as it approached the town of Lockett, TX. A large strong tornado moved across north Texas after dark, causing damage to homes around Lockett and also hitting a tour van full of storm chasing tourists. I would be unable to get a glimpse of this tornado, reaching the damage path across a highway near Lockett just a few minutes after the tornado had passed.
Storm chasing is a dangerous activity, and is especially dangerous at night. Even with excellent radar technology and applications we have available today, storms and especially tornadoes can morph and change direction between scans of a radar station. A radar station rotates 360 degrees as it scans the sky and it takes time for that rotation to occur, so it's important to have proper knowledge of storm behavior, and technology limitations. On this night, a tour van full of storm chasers was hit as the tornado changed direction from an easterly path to a northerly path. Most tornadoes will make a turn to the north as they enter the end of their lifecycle and this tornado did exactly this, hitting the tourists in the process.
https://twitter.com/aaronjayjack/status/1522038955755319297?s=20&t=csbeFz54mSRP-QO27jOAdQ
The Crowell, Texas tornado ranked up there with one of the better tornadoes of my storm chasing career. It had beauty and grace, it was out in the open, it had a beautiful red color that contrasted incredibly with the white funnel. And most importantly it didn't hurt anyone or damage anything other than a few snapped mesquite trees and some displaced red topsoil.
It was the perfect kind of tornado.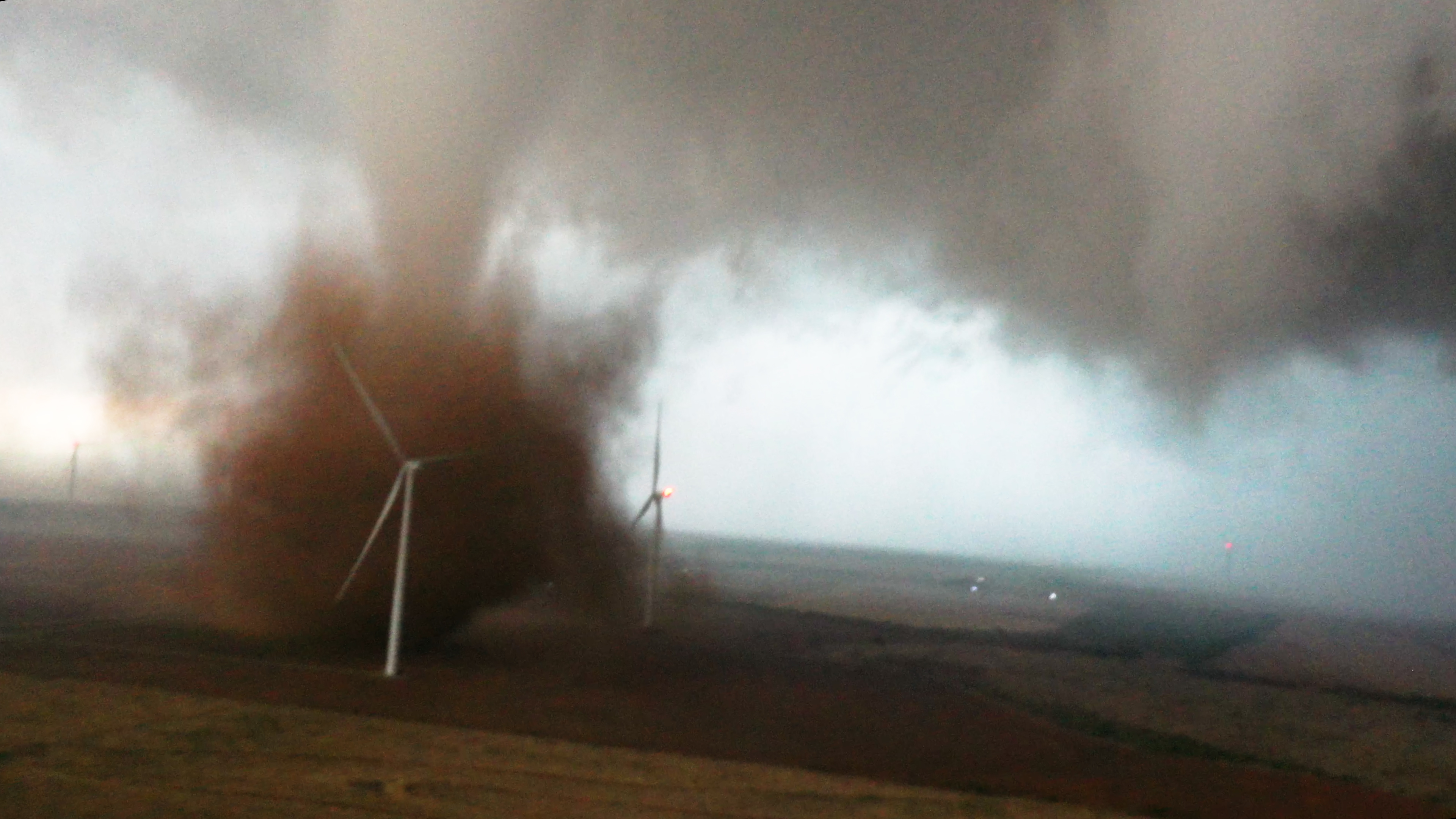 Drone image of the Crowell, TX tornado as it moves through a windmill farm.